Alpaca … warmer than wool, softer than cashmere!
Woven 100% Alpaca Scarves
PL-16393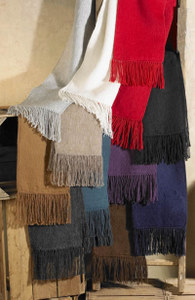 These 100% woven scarves are both sophisticated and practical for style and warmth. The brushed fabric is super soft soft to the touch. Available in all our natural colors and an array of dyed colors. Measures 71" x 9" (approximately, and does not include fringe).

Our scarves have been credited by the International Alpaca Association (AIA). This signifies that they meet the highest standards of the Alpaca Industry in terms of fiber content and quality.
Color
Black (0) White (0) Brown (0) Silver (0) Charcoal (0) Navy (0) Red (0) Burgundy (0) Green (0) Purple (0) Camel (0)