Alpaca … warmer than wool, softer than cashmere!
Suri Alpaca Rug Yarn - Cream
18077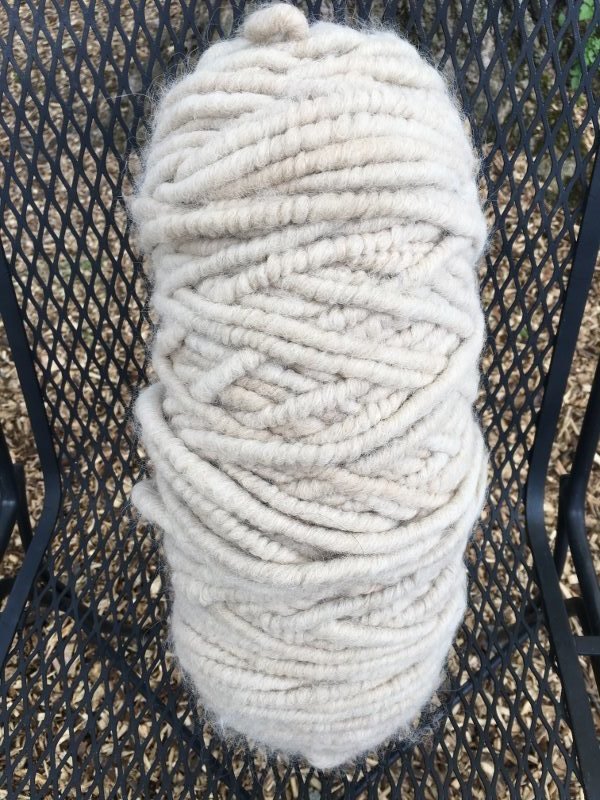 Our Suri Alpaca Core Spun Rug Yarn is made using fiber from our alpacas here at Alpaca Meadows, and merino wool around an alpaca core. It is wound into a bump that measures approximately 140 yards, and weighs 54 ounces.
This yarn is very soft, very pliable, perfect for rugs, chair pads, sofa throws, baskets, purses, even trivets and coasters. It can be woven into rugs. Made of ungraded seconds, it is very soft and when made into a rug has a soft, cushy feel that you will love sinking your bare feet into! A single bump can yield a small rug (2x4), or several table runners, or several scarves. If you use a really thin warp and weave tightly, the warp will sink into the thick alpaca and "disappear" giving the item a unique look.
It also can be knit, or crocheted into quick projects using large needles or hooks. A round 20" rug takes about 52 yards when crocheted with a U hook. It can also be used for coasters, trivets, purses, baskets, purse handles, and more!
Crocheted purses or bags require the following yardage:
Small Purse with Strap (6″ x 2.5″ x 7″) – 25 yards
Medium Purse with Strap (12″ x 3.5″ x 10″) – 55 yards
Large Bag with Strap (20″ x 12″ x 5″) – 115 yards
For a FREE rug crochet pattern, click here. Bags and purses can be made from this yarn also. See those patterns here.