Alpaca … warmer than wool, softer than cashmere!
Suri Alpaca Roving - Circus Time
17925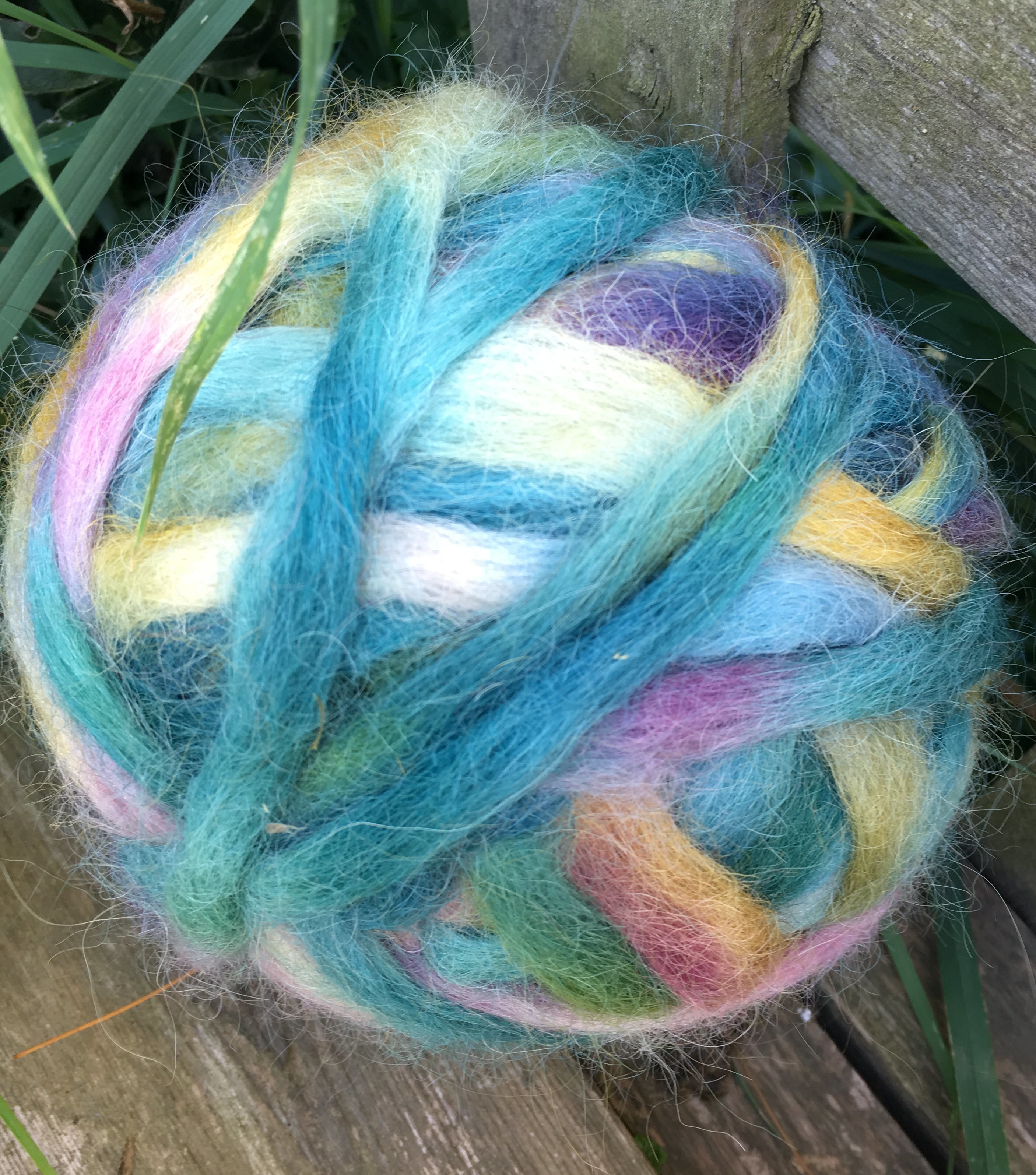 This listing is for 4 ounces of 100% suri alpaca roving. It was hand painted using
Gaywool Dye
colors Cedar, Raspberry, and Peppermint into a colorway I'm calling "Circus Time". This pencil roving isgreat for beginning spinners because there is not a lot of drafting required. A blend of the light colored alpacas from our own herd at Alpaca Meadows in Mansfield, Ohio, it was was processed by Morning Star Fiber Mill, an artisan fiber mill in North Carolina. This roving is healthy, good quality fiber of medium fineness that will spin into soft yarn with beautiful drape and color.

Suri naturally spins worsted or semi worsted because the fibers are long and smooth like silk. It can be spun quite fine with enough twist to make a good two ply yarn but not too much to make the yarn over twisted and harsh. Spun fine, a little suri fiber goes a long way and is ideal for lace scarves, wraps, shawls, hats, vests, and in woven cloth
Suri is truly quite versatile. It is wonderful for spinning into a single ply lopi yarn, as well as all types of boucle's. Suri makes big loops, small loops, wraps, spirals, tips and whips! Higher coarser grades of suri make wonderful loopy boucle yarns with lots of volume, and texture.
Suri can be used for core spinning. It just wraps and wraps and then it wears and wears.
________________________________
Suri may slip and slide and grow so when knitting or crocheting with it, be sure to use a pattern that will keep its shape. Finished projects should be blocked with the idea that they will not rebound.
Finished products made with any natural fiber should be hand washed and laid flat to dry, as most items will felt.
________________________________