Alpaca … warmer than wool, softer than cashmere!
Needle Felted Bunny Rabbit, "Quinn"
17872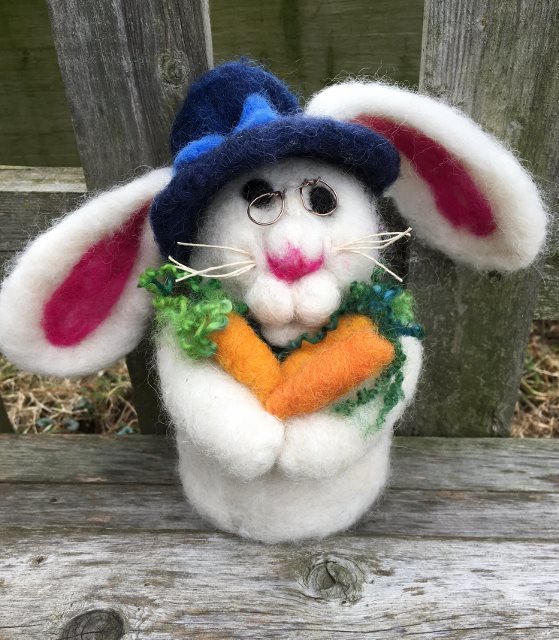 This needle felted Bunny Rabbit is one-of-a-kind and was needle felted using alpaca wool fiber. Her name is Quinn! She is wise beyond her years, and does a lot of reading (hence, the spectacles) when she's not digging carrots in the garden. To the top of her navy blue gardening hat, she stands about 7 1/2" tall. She is white with hot pink in her ears and tip of her nose, pretty blue and green cotton scarf to match her felted hat. Her arms are full of the fruits of her labor, or perhaps her carrots are from the neighbor's garden? She would make the perfect addition to your Easter table, or unique gift for someone special!
Needle felting is the process of repeatedly pushing a barbed needle into a tuft of fiber, agitating, compressing, and locking the fiber together into a more dense mass of fiber. This rabbit is made from fiber produced by alpacas at Alpaca Meadows, and takes many hours of felting to complete. Each felted piece is a labor of love.

------------------------------------------
Though soft and wonderful to touch, this felted bunny is not intended for unsupervised play or for children under 3 years, as loose fibers may cause a choking hazard.
Interested in learning to make a needle felted bunny? We offer classes at Alpaca Meadows! Click Bunny Felting Class to find out more.