Alpaca … warmer than wool, softer than cashmere!
Handwoven Cross Body Bag
18044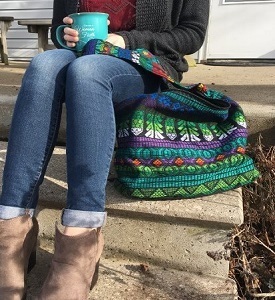 This roomy handwoven, vividly colored, cross-body bag offers ample space for all your day-to-day essentials. Carry your belongings with you in comfortable style. This lined bag features a wide zipper opening, and a front zippered flap pocket. The bag measures 12.5" H x 16.5" W with a 5.5" flat bottom, and a wide strap measuring 39".
This beautiful bag is handwoven by a women's Weaving Ministry in Ixcan, Guatemala. Not only is weaving a learned skill that helps to sustain the women's families, it provides stress relief from dealing with life in a third world country, and gives the weavers a sense of purpose. There's something beautiful about helping to give another woman some purpose in her life.
Color
Green, Blue, Purple (0) Orange, Red, Green, Navy (0)