Alpaca … warmer than wool, softer than cashmere!
Alpaca Picture Felting Kit
AMDWS-100401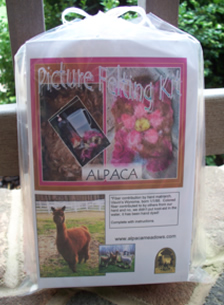 Design a picture with alpaca fiber - just add soap and water and rub! Create a landscape or an abstract design. Illustrated instruction are included, complete with pictures, for a fast and easy project.

*Fiber contribution by herd matriarch, Visviri's Wynoma, born 1/1/95. Colored fiber was hand-dyed and contributed to by others from our herd.

Geared for fiber enthusiasts age 10 and up!